So in just a couple of weeks I've gone from having a junkyard motor on the floor to having a fully reassembled car. But starting it didn't go as smoothly as last time – it started the first try then, but this time it just cranked over and wouldn't fire. Turns out this diagram on aa1car.com, that I used to wire the spark plugs, is wrong:
The 3.8 and 4.3 V6 engines are 90-degree engines based on the Chevy Small Block. The 2.8, 3.1, and 3.4 are 60-degree engines and have a different cylinder bank configuration that is the opposite of the 90-degree engines, as seen in this diagram that Dan found on AutoZone's site: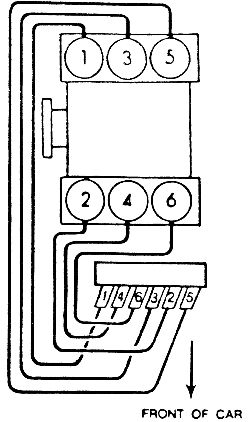 After rewiring it, it started but was running roughly. We checked the plugs and wires and found trouble on cylinders #2 and #3. We changed all the injectors and the fuel rail and replaced the three rear spark plug wires, and it runs smoothly.